Archive for November, 2010
An Eco friendly concrete sealer that's green.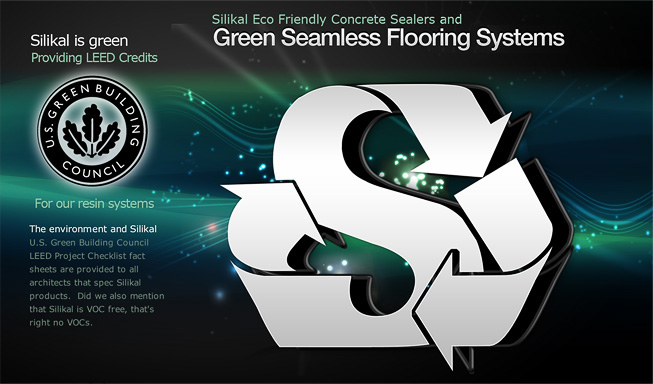 When you are searching for an ECO friendly concrete sealer, what you are really looking for is one that has no Volatile Organic Compounds which are known as VOCs in the concrete sealer business. You see, when they are applied to flooring, VOCs generate a breathable gas which is measured as being highly hazardous for humans as well as animals. You should thus know that Silikal eco friendly concrete sealer is a totally non-VOC product. It is thoroughly tested and approved to be an ecologically friendly product. As a matter of fact it is certified to be a no VOC product!
With Silikal you will receive a eco friendly flooring that seals your concrete floor perfectly but is also going to bring you superior utility, exquisite looks and is also as "green" as can be for the environment! In addition your Silikal flooring will be totally non-slip and because it applies and completely seals in less than an hour. Silikal flooring is not like any other brand of industrial floor coatings, because only Silikal utilizes a specially patented enhanced MMA that is astonishing in its very composition.
Silikal is an ECO friendly concrete sealer that is a cured system which is USDA and FDA approvable. Also, because Silikal is completely seamless, you will find that it is extremely easy to maintain, totally non-slip, and incredibly durable no matter what kind of "torture" your floors will be subjected to. You will find that only Silikal offers this kind of outstanding chemical element, mechanical as well as thermal resistance
Need a kennel floor and wondering what is the best flooring for a dog kennel?
Our pets mean so much to us! So naturally we want the best for them even when it comes to kennel flooring. So what is the best flooring for a dog kennel? Obviously we wish for them to be as comfortable as possible even when kenneled. This means that we want them on a non-slip floor that will be kept clean and dry and not harbor any disease causing microbes underneath that flooring that may have absorbed urine, blood, feces and other harmful bacteria. That also means that we want a flooring that will stand up to animal claws and the strong disinfectants used to keep kennel floors clean. So the question still stands, what is the best flooring for a dog kennel?
The answer to this question is Silikal flooring for your kennel. You see, other products that are not the strong Silikal are unfortunately rather inferior. They actually will allow penetration of dirt, water and worse yet bacteria because they are porous. Imagine what a cleaning nightmare that becomes when it is a kennel floor?
Further, even when wet Silikal kennel flooring will also prevent slips and falls for both the humans as well as your animals. This means that your kennels will be as safe as can be! Whether you use your kennels to house your pets, work animals or use them to allow your animals to be inspected by the public, you will also love the fact that Silikal flooring can also be beautiful kennel flooring that presents a very professional atmosphere for your kennels. This is very important for commercial kennels who wish to put forward the best looking environment for the owners of their canine "guests." So you no longer have to wonder what is the best flooring for a dog kennel, or any kennel for that matter as Silikal is what you are looking for.