Flooring for your Club or Dance Hall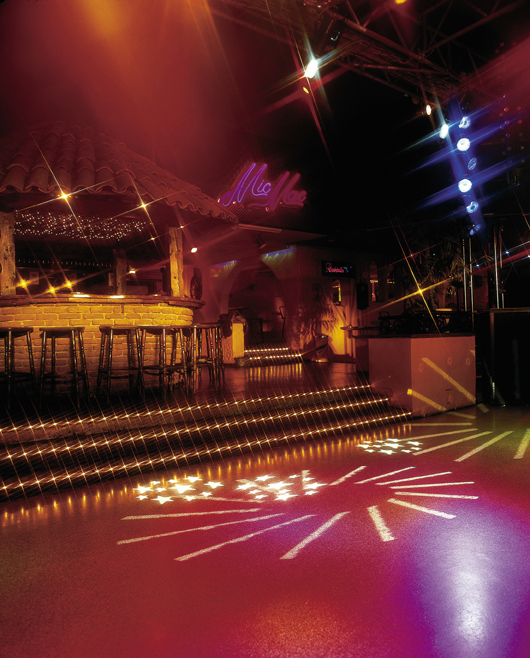 Ah…nightclubs! They are renowned for having hot dance floors and decidedly cool bars. Those who must select nightclub flooring will have to make some terribly important decisions. Of course there must be a bar involved, and even more important to success is a dance floor.
Dance floors must naturally be clean and devoid of anything that may make a dancer not slide, twist and move as he or she wishes. Any dance floor also needs to have an area large enough to accommodate its dancers, dancing contests, or any other dance events that may be held there.
Occasionally, one may combine a nightclub with a restaurant, thus space needs to be allotted for same. Also if food is served then additional space needs to be given for the waiters or waitresses to serve the  food. Few people who design a nightclub give any thought to incorporating their themes directly into the nightclub flooring. However take a nightclub with a circus motif as an example. The floor may have clowns imprinted upon it, or perhaps even balloons possibly. Or maybe one might even consider a Las Vegas theme. That does not necessarily mean that one need to have working slot machines either, but yet there may be some "play" slots available, and the flooring may have coin imprints imbedded into the floor.
There are some who would prefer a rather plain nightclub flooring as they wish to train assorted floodlights on the floor. Thus, they rely on LED video dance floor lighting as the embellishment to their nightclub flooring.
Believe it or not sub-standard floor laminates can actually lower the revenues that can come from having good nightclub flooring. What happens is that especially the women refuse to dance on a floor that might catch their hose if they dance barefooted, and even in some instances the floor might even damage their expensive shoes.   It is imperative that you have  nightclub flooring that is totally slip proof as sometimes guests are apt to drop drinks onto the bar floor perhaps while dancing, thus you will wish to maintain that floor in immaculate shape throughout the times when your nightclub is open.  Also you must be aware of the potential damage that spike heels have been known to occasionally damage some expensive flooring.
Also do keep in mind that if you are located in an area where it rains frequently, you will have guests bringing in rainwater on their shoes that may impair your nightclub flooring.  The same can be said of guests coming in with snow on their clothes or shoes.
Of all the nightclub flooring you might choose for your nightclub, Silikal will be the perfect answer to a clean, theme laden flooring that is also non-slip, or available for the lighting display that so many nightclubs seem to favor.  In addition a Silikal floor will always remain as the day it was laid in your nightclub since Silikal is known to be the lifetime flooring outliving the building it was placed in.
Tags:
No More Boring Lecture Hall Flooring!
Sometimes those of us who attend lectures are simply bored to death, but it is not always the fault of the lecturer, but may be the fault of the surroundings. Boring surroundings lead to bored minds, thus even the flooring may be at fault. Lecture hall flooring may be refurbished to show perhaps a bold pattern which provides a pop and wow factor to boring lecture hall flooring.
Lecture hall flooring may be improved perhaps by utilizing double simple contrasting colors which may be exemplified by perhaps a dark hue and white. A more understated look could be used by using two separate shades of the same color. Think, for example a pale green combined with a darker green. Granted one could perhaps go hog wild and utilize a plethora of rainbow colors of wavering sizes of striping. As can be imagined the flooring will be anything but boring. The point being that by opting for a fun color one can give flooring eye-grabbing personality. This is especially important on a college campus, where students are frequently visually bombarded.
On the other hand, one may decide to opt for a classic black and white atmosphere. Some may like gray and white for what may be termed a cool but classical look. The checkerboard look is also possible with bold color options as well as black and white.
Should you go with a versatile product such as Silikal, then too there are the colorful splatter effects for flooring that will render an artistic look. When other effects are desired one may also opt for a natural stone look, colorful quartz, or micro flakes of all imagined colors. Granted the more staid mono colors are also available for your lecture hall flooring.
One of the things that many find exciting about Silikal is that it is a "green" floor. The reference to it being green denotes to the fact that Silikal is rated highly by the Leadership in Energy and Environmental Design group, giving LEED Certification. The reason why it is so rated is that it is a no VOC flooring composite. VOCs are of course the breathable gas that many flooring compounds exude when laid. VOCs are Volatile Organic Compounds, the breathable gas that is unfortunately exceedingly harmful for humans. LEED certification can give some tax advantages depending on the amount of work and material that qualifies for LEED Certification. Many are unaware of Silikal's dedication to being 'green" and the correlation between green products and healthy human products.
Lecture hall flooring must of course be able to withstand the foot traffic that a popular lecture hall will undergo. Silikal is of course renowned for being able to put up with incredibly high traffic areas, as Silikal is next to impossible to mar. After all Silikal is a floor system composed entirely of rapid cure resins, and thus it is professionally designed for lecture hall flooring presenting heavy duty, durability, longevity, safety as well as hygiene.
Tags:
Key Stairway Flooring Solutions
Often no matter the location someone has come up with the brilliant idea that stairway flooring ought to be carpeted. Of course this is actually a ludicrous idea as carpeting tends to wear wherever footfalls come, and finally what happens is that the carpeting becomes dingy and stained, but worse yet predisposes the stair users to unfortunate falls. The right floor covering for high traffic areas is crucial in stairwells. If this stairway is located in a business of some sort, this is a lawsuit waiting to happen. Unfortunately a solitary rip in stairway carpeting can actually cost a company millions won in a suit!
Such problems could be so easily avoided if the correct flooring had been selected to begin with for their stairway. Durability is key in any stairwell. Proper stairway flooring is absolutely indispensable, especially to business concerns.
This then begs the question as to what exactly is proper stairway flooring? Of course safety and the well-being of the users of that stairway is paramount. That then means that one cannot utilize stairway flooring that will wear away at any time inviting falls. Taken one step further, that also means that the stairway flooring should not need tremendous upkeep.
Those who must make decisions with regard to upkeep will definitely understand that maintenance may often be required so that the stairway would have to be shut off from foot traffic when the flooring must be waxed and polished for instance. Taking this further, one must also take into consideration the replacement factor. This also would require the need for the stairway to have to be shut down periodically.
Looking at this yet another way, décor also needs to come to mind. Indoor staircase design is often overlooked, and destroys the ambience of the room. In fact there are times when flooring can become a conspicuous portion of the indoor staircase and even at times can go unnoticed although one does not frequently utilize these stairs. Interior decorators take into account that the stairway is an integral portion of any room and thus will know that the proper stairway can add a definitive crucial decor element to any interior.
Using Silikal means that you will be able to have experienced installers taking care of your stairway flooring with complete professionalism. The installers have been fully trained to quickly install Silikal. They are installation experts who come not only experienced, but are actually certified trained. Their incredible knowledge of the enhanced MMA (Methyl Methacrylate) they will apply to your stairway flooring will completely astound you.
Sometimes part of such staircases are utilized for emergencies only. That means that they will only be seen by the public in rare instances. That however does not mean that protecting the concrete is of no importance. Just the opposite is true, as concrete will undergo changes even when unused. Because some of these staircases are located outdoors, at times it will even be important for that staircase to be able to weather water, cold, and even ice. Nothing but nothing fits the various requirements of stairway flooring as well as the ever-lasting Silikal flooring.
Tags:
Terminal Flooring Aimed To Please Any Transportation Industry
Transportation terminal flooring is essential for such places as bus and train stations, ship terminals and airports as well. Of course the reason why is due to the heavy demand for pedestrian traffic. But in addition there are the demands of luggage carts, transport vehicles such as airport golf carts, and even wheeled luggage.
However, in addition there are such demands as ease in application and also appearance too. So not only will a transportation manager look into long wear ability, but the ease of maintenance, along with passenger attractive designs. Generally such areas as mentioned will also need to have the highest amount of slip resistance possible in order to offer safety when on stairwells and even inclusive of arrival and departure regions.
As mentioned the wear and tear of high traffic areas must be dealt with, but the hopefully long-lasting beauty of the proper flooring will withstand the torture that flooring is put through. But as for the attractiveness that lends the visual appeal to transportation industry terminal flooring frequently that is the job of the interior decorators. They are the ones who decide on the visual style, colors as well as color harmony of the flooring so that they can achieve complementary coloring as well as patterns all ordered into eye pleasing chromatic families. In addition that is the province of the interior decorator to choose the flooring pattern which will best enable the public to feel relaxed in the transportation terminal, especially important to those white knuckle fliers.
Of course any transportation industry terminal flooring needs to be easily cleaned. Cleaning cannot take an extraordinary long time as any terminal is usually in use 24 hours per day. That means that cleaning must be done not only efficiently but quickly. There is no time to be spent steaming the floor, nor polishing it, and even less to be spent applying wax. In addition such flooring needs to be resistant to any shock impact as well as any possible indentations from use or furniture.
In the present day, transportation industry designers and architects will turn to Silikal in order to find the best terminal flooring possible which answers all of their flooring concerns. There are numerous explanations why this is so.
First Silikal is extremely easy to have installed, as the flooring professionals at Silikal are so well trained that they are actually flooring experts. It is at this point that a terminal will realize the massive experience that Silikal has had with such similar installations of terminal flooring. Next, it is at this point that the very special touches that can be had with Silikal can come into being. For instance many companies have their logo installed into their terminal flooring. This is considered to be not only stylish but extremely posh.
Finally, one may not mention Silikal without also mentioning the fact that even under the circumstances found in transportation terminal flooring, Silikal is still the most durable and considered a lifetime flooring. The significance is that Silikal will outlast any of those terminals!
Tags:
Flooring That Can Take The Heat In Any Firehouse
Firehouse flooring needs to be not only slip resistant, fully seamless, but also be a waterproof resinous flooring system which is truly ideal for firehouses. In addition firehouses need flooring that is chemical resistant, as many chemicals are handled there. Additionally the firehouse flooring must be seamless or monolithic as referred to by flooring individuals. Part of the need for a monolithic floor is the fact that it must be able to withstand the creation of pinholes that lesser supposedly monolithic flooring will allow to be created, thus producing havoc over a relatively short period of time. Once pin holes form it is not long before all manner of liquids find their way under the flooring.
These liquids may ride in on the actual fire engines, such as dirty water from a firefight, or perhaps even rainwater. Also, if it is snowing or the roads are icy where the fire truck has been, then it stands to reason that the fire truck may well be carrying water from the icy street mixed with some kind of de-icing agent such as salt. Such problems will definitely cause mayhem with the firehouse flooring involved.
The thing is that the miniscule amounts of pinholes are quite detrimental to the firehouse floor so that what happens ordinarily is that water, dirt and bacteria are able to penetrate the surface of the floor, which then converts to the perfect living quarters to not only bacteria but also mold. Once these organisms take over underneath a firehouse floor, all is pretty much lost as there is no fixing the problem without taking up the entire floor and replacing it. It makes absolutely no sense to install flooring that is not Silikal in a firehouse.
Additionally, Silikal is especially designed in order to withstand some of the harshest conditions, which include mechanical abrasion such as the overheated tires on a fire truck, or perhaps let's say the heavy equipment spoken of so reverentially among fire fighters. Depending on the location of the firehouse, of course special problems can present themselves. For instance a firehouse in Florida has no need for flooring that will withstand de-icing, however it behooves that particular firehouse to take care of overheated tires.
Keeping in mind the looks and appearance factors of a firehouse, it is also important to take into account such problems and solutions for let's say slip and fall resistance, after all they would come into the station all wet with water running off not only the engines but their equipment as well. Their heavy equipment might also call for their flooring to be impact resistant too.
Though nowhere near as important as being impact resistant as well as slip resistant, the need for firehouse flooring being pinhole free, seamless and non-porous pales when it comes to being beautiful and also attractive as well as fitting into some sort of highly decorative flooring that appeals to many. Thus flooring known as Silikal is the one that fits into that question of what kind of flooring one should utilize when looking into the myriad of flooring available for firehouse flooring.
Tags: